Team
FROM THE BEGINNING....
a brief outline on the history of Edun Ara - bloco de carnaval
by Ravin 'Raz' Jayasuriya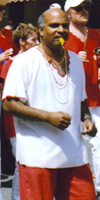 I have been playing and teaching percussion for over 18 years. For most of that time my main focus has been in Brazilian and Cuban traditional drumming and especially the music of Candomble (Brazil) and Santeria (Cuba).

I am regularly invited to present workshops by community percussion and samba groups from throughout the UK and over the years I began to include my own ideas and arrangements which combine elements of traditional and popular Brazilian and Cuban music arranged for a typical UK Samba Group's line up.

I enjoyed putting such arrangements together and these 'new grooves' proved to be very popular amongst my students too. Bit by bit I started to arrange a number of percussion pieces to form a repertoire in honour of the Orishas.

In 2006, I began working with a local Brazilian dancer, Marcia Magliari, who added her own ideas drawing on her knowledge and experience of a range of styles including dance movements of the Orishas. Together we presented a percussion and dance piece in honour of the Yoruba Goddess Ochun/Oxum and the concept of Edun Ara - bloco de carnaval was born...

In 2007, costume designer Bitti Santos, a long time friend & colleague of Marcia's joined the team and took on the making of costumes for the drummers & dancers.

In 2008, I invited London based percussionists & singer, Vicky Jassey to lead songs and teach a chorus made up of students. This brought the elements of drumming, dancing and singing together with over 140 people participating.
This project is only possible due to the enormous help and contribution from many people and I thank all of them for their support and encouragement.

Special thanks also go to:
Simon Barrett (website), Maggie O'Keefe (lead vocals in 2007), Susanne Jayasuriya, Alison Fairchild, Cath Johnstone, Gary Marsh, Philippa Barrett, Russ Hinks, Sambassadors of the Groove, Stephen Halliwell, Bob Marden and the Rhythms of the World committee and everyone who has taken part in all our projects to date.
Ache
Raz
---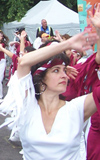 Marcia Magliari (dance)
Marcia is from Rio de Janeiro, Brazil. She teaches Samba, Afro-Brazilian, Frevo, Forro, Lambada, Gafieira (samba ballroom), Salsa, Merengue & a Stretch class.

She is an experienced dancer, teacher & choreographer who since 1986 has been working for Brazilian Contemporary Arts helping in the expansion of the notion of Brazilian Dance (especially Lamabada) & Music in the UK.


Marcia has been trained in classical ballet, jazz, contemporary, dance movement therapy and studied yoga and tai-chi. She has a Diploma in dance movement therapy and is a pioneer of Brazilian dance in the UK.

She combines all this knowledge and expertise to give her classes a special blend, linking body awareness, technique and the joy of dancing.
---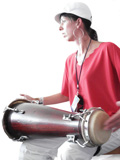 Vicky Jassey (voice)Vicky is a singer and percussionist who has been specialising in Afro-Cuban Folkloric music over the last five years. She is Director of Bombo Productions a company that promotes Afro-Cuban folkloric music through Performance, Education and Events in London. She has recently performed as a principle singer in the Bristol Cathedral, V&A Museum and at SOAS University. Her previous work includes Horse & Bamboo Theatre, Scarabeus Physical Theatre, Chol Theatre and Circus Space.

She has worked as a percussionist for The Richard Alston Dance Co, Dartington Jazz Collective, Victoria Newton Quintet. She has directed and produced various works including; '50ft Woman & Him Cabaret', 'The Pulse' and 'Hot Ashes', outdoor percussive performance.

She currently works with the London based Cuban music groups Rumba Orisha and Los Rumberitos De Londres.
---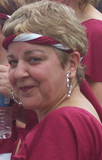 Bitti Santos (costume)