---
---
Membership Application
HOW TO BECOME A MEMBER OF ẸDÙN ARÁ?
FREE MEMBERSHIP
To start, click on the 'sign-in / register' tab at the top of this page and enter your details.
You will then be sent an email requesting you to validate your account after which your FREE Membership account will be open.
PREMIUM MEMBERSHIP
You first need to have a Free Membership account which you can upgrade to a Premium Membership account. If you already have free membership, click here to upgrade to Premium Membership.
MEMBERSHIP TYPES AT A GLANCE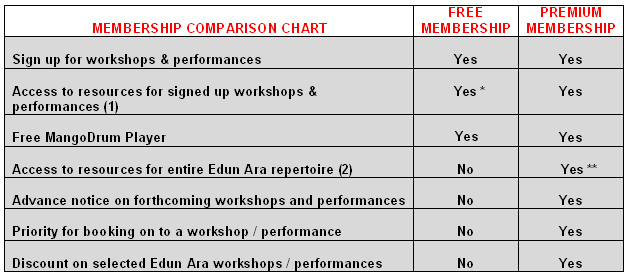 (1) MangoDrum grids, PDF of grid notation, lyrics (if applicable)
(2) MangoDrum grids, PDFs of standard and grid notation, lyrics, MP3s with cues, dance
videos (subject to event)
* MangoDrum grids will be available until the workshop or performance has taken place
** Includes all updates during the period of your membership
---